1) Create Account
Head to my.bramble.io/sign-up and enter your email address to begin the registration process. You will be asked to confirm your email address and enter some basic information about yourself.

2) Create Your Room
After choosing your plan, you will be taken to your Rooms page where you can create a room. A room is where your live tutoring will take place. It is a link that you share with your students to have them join you for a session. You can choose just to use one room and share it with all your students or you can create a room for each student. You can learn more about rooms here.
We recommend naming the room after yourself or your student. It should be all one word, without any numbers or special characters. We will add a randomly generated pin code to the end of your room name so the link can't be guessed by someone you haven't shared it with.

3) Prepare For Your First Session
We've tried to make Bramble really easy to use, so it shouldn't take you long to get familiar with how it works. Nevertheless, we'd recommend reading this article on preparing for your first session and watching the walkthrough video below.
The walkthrough video covers the basics you need to know before your first session.

4) Start Your First Session
Once you're familiar with how Bramble works, you're ready to start your first session with a student. To do that, simply send them a link to the room the session will be taking place in. You can find all your room links on your Rooms page.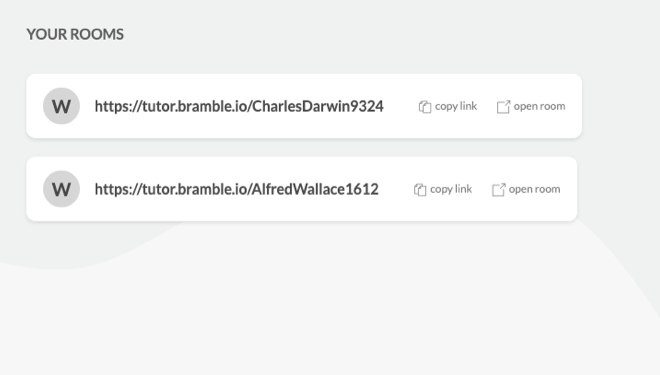 Copy a room link and send it to your student to start a session.

5) Learn More About Online Tutoring
The above guide should tell you everything you need to get started but we'd also recommend taking some time to learn more about online tutoring in general. This will help you to articulate the benefits it brings and better answer questions. The best place to learn more is our blog, which covers everything from the benefits of online tutoring for tutors and students to the best equipment to use.