To join your first session on Bramble, you will need a link to the Bramble room you are connecting to.
Room Links
A room link is the URL that your session takes place at. The room is typically named after the tutor or student. If you are a tutor, you can create your own room links and share them with your student. If you're a student, your tutor or the organisation arranging your tutoring will send you a room link.
Here is an example: https://organisation.bramble.io/PersonsName1234

Connecting To A Session
To join a session, open the room link using Google Chrome (or Safari if you're on an iPad). If it's your first session on Bramble you will be asked to enter your email address so we know where to send your lesson recordings.

Speaker And Microphone Test
Next you'll be asked to test your speaker and microphone are working. Click the sound of the animal you can hear to confirm your speaker is working. Then allow access to your microphone when prompted and make some noise. You should see the circle illuminate, click Get Started to join the session.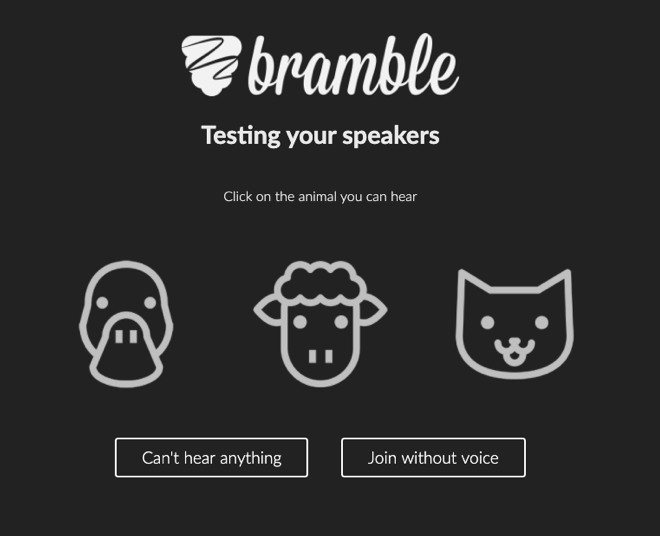 Click the animal you can hear to pass the speaker test.
If you'd like to join a session without voice, perhaps because you're joining with a second device, then you can choose to Join Without Voice on the speaker test page. Follow these links for more help if you get stuck on the speaker or microphone test.

Using The Session App
You are connected to the session and ready to go. Next, check out these tips on how to use the session app or watch the walkthrough below.
The walkthrough video introduces you to the session app.