Birds Eye View is designed to make small group tutoring on Bramble more effective and engaging, allowing a tutor to work with up to four students at their own pace at the same time.
The feature allows students to be split up to work separately whilst the tutor has an overview of what all students are working on at once – making it easy for them to provide assistance right when it's needed.
This walkthrough takes you through exactly how to use Birds Eye View as a tutor:
1. How to activate Birds Eye View
To activate Birds Eye View, just head to your Bramble Room and click the ? icon in the toolbar.
Then tick the box next to 'BirdsEye Mode'.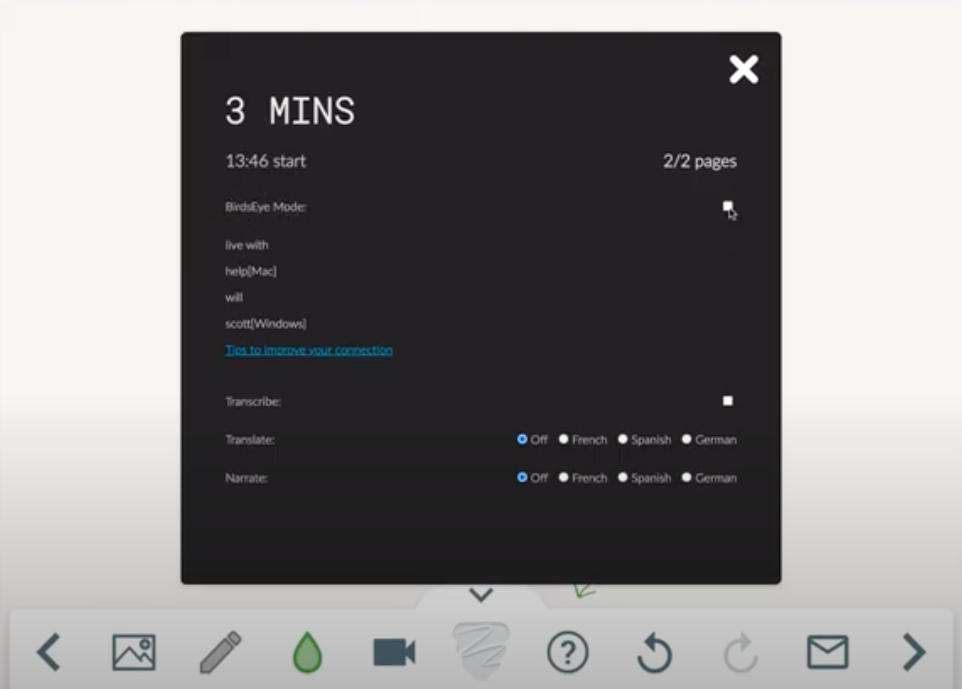 This will then split your Bramble page into 4 equal quadrants which you can assign to your students. You can control who is assigned to which quadrant via the info panel.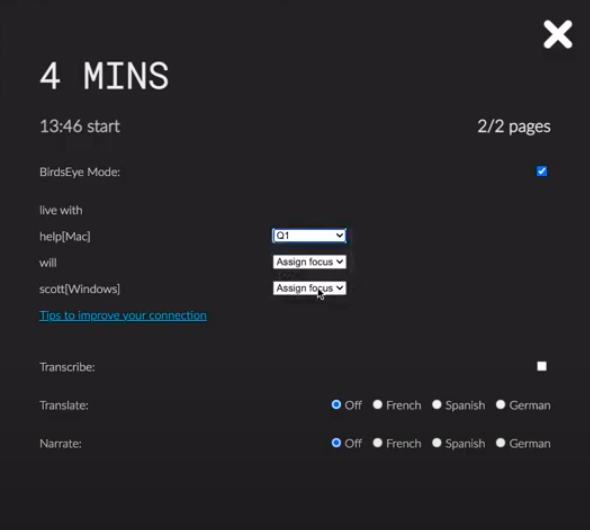 You can even assign 2 students to one quadrant if you ever want them to work together on a specific question.
You can change the assigned focus whenever you need to - all you need to do is click on the ? icon in the toolbar to change things.
And don't worry, as the tutor you are the only one who has access to these controls.
2. Assigning a Resource to Each Quadrant
When using Birds Eye Mode you will most likely be wanting to share multiple resources on a page so that each student has material to work on in their own quadrant. In order to share up to 4 resources on a page here are the steps to follow:
1. Make sure the resource you want to share is an image file. If you are using a PDF, the easiest and quickest way to make this into an image file is by taking a screenshot of the work and then pasting it into the Notebook. This is demonstrated for you here:
2. Upload or paste your image onto the Notebook page the amount of times you would like that image to appear. For example, if you are only working with 2 students, you only need to paste the image twice and assign student 1 the first quadrant and student 2 the second quadrant. If you are teaching 4 students at a time, you will want to upload that image 4 times. You will notice how the images will automatically be resized to fit the page, hence appearing in each quadrant.
3. If you are wanting your students to be working on different material in each quadrant then the same rules as (2) apply, but you will just want to make sure you are sharing different images as opposed to the same one multiple times.
3. Top tips for using Birds Eye
Try making your image/resource a similar dimension to the Bramble page. This will ensure the whole question takes up the whole quadrant.
If you want to move onto a new page, make sure you untick BirdsEye mode in the info panel to release the toolbar.
If you teach 2/3 students, you can use the 3rd/4th quadrant to assign them new work if one student happens to finish work before the other.
Prepare images/resources in a file on your device before your session. This will make it easy for you to just drag and drop the images you need as and when you need them.
*Our Birds Eye functionality is currently available for Elite Tutors and Enterprises.*